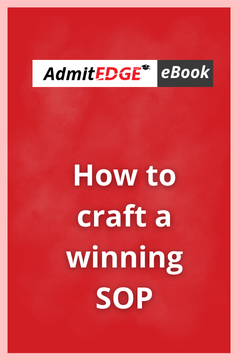 How to Draft a Winning SOP for your MS: Expert-analysis & Sample SOPs
Did you know that there are 3 C's to writing a great SOP? Yes, your SOP must be concise, cogent and coherent in order to win a top admit. How can you go about writing such an SOP? Read this eBook to find out!
Download our free eBook today
Welcome to the AdmitEDGE Free Resources Library!
Your SOP is the closest thing you have to a personal interview with the admission officers.
Knowing how to make the best first impression is often the difference between an admit and a reject.
So, how can you make the best one? How can you stand out from the massive sea of applicants that compete for the same admits every year?
Answering some of these important questions, this free eBook will teach you:
Most important parameters for your SOP.
An ideal timeline to follow while crafting your SOP
Expert Analysis of some sample SOPs for better understanding
Bonus: Your SOP can be answered using just 4 questions! Find out what they are here.
Clinch an MS admit - Download your handcrafted SOP guide now!
P.S: Your eBook will be sent to your inbox, so make sure you give us a valid email ID.