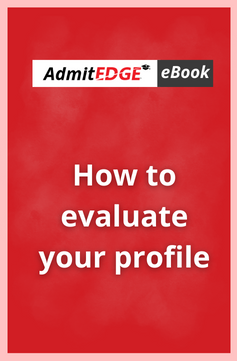 The Ultimate Guide to MS Profile Evaluation
Is my academic profile good enough to get me an admit? Put an end to such doubts with this detailed eBook on how you should evaluate your profile. Look at your application from the admission officers' point of view and understand your admit chances!
Download our free eBook today
Welcome to the AdmitEDGE Free Resources Library!
What do admission officers see in a profile before they decide to grant an admit?
Do you want to clearly gauge your admit chances based on your profile, like an expert would?
After years of helping students achieve their dream admits, our admission experts have put together a must-have checklist for every MS aspirant who wants an admit at a reputed university.
In this free eBook, you will learn:
1) What should your profile consist of?
2) How can you improve your admit chances?
3) How to choose universities for your profile?
Get absolute clarity on your admission status! Predict your admit chances - Download your must-have admission guide now!
P.S: Your eBook will be sent to your inbox, so make sure you give us a valid email ID.