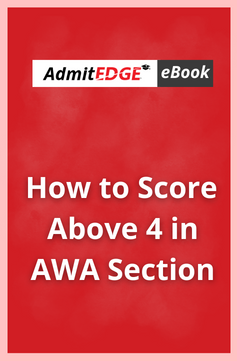 AWA GRE: Score 4+ in GRE Analytical Writing Tasks
An advanced writing guide for GRE aspirants who wish to write the perfect Issue & Argument essay. With writing templates, sample structures and answers, this eBook will have you scoring above 4 in your AWA in no time!
Download our free eBook today
Welcome to the AdmitEDGE Free Resources Library!
Writing is an art, not a skill. True. But, writing an AWA essay that cogently conveys a specific point is a skill that can be learnt and mastered!
Presenting every GRE aspirants' must-have guide to writing the perfect Issue & Argument Essay, this eBook will unravel the following aspects of writing:
1) How to write an Issue Essay
2) Do's & Don'ts for an Argument Essay
3) Techniques with sample essays for immediate reference.
It also comes with an entire checklist of things that you should keep in mind while writing an Issue and an Argument essay! Author your own AWA essays with ease - Download your advanced writing guide now!
P.S: Your eBook will be sent to your inbox, so make sure you give us a valid email ID.