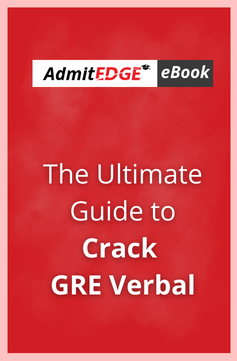 Crack GRE Verbal - Best Tips
Ask any GRE aspirant, what's the one concern they have & the answer is always GRE Verbal. However, with the right preparation strategies, scoring a 160+ in GRE Verbal is definitely possible. Get the techniques that have helped over 36,000+ students to crack Text Completion, Sentence Equivalence & Reading Comprehension.
Download our free eBook today
Welcome to the AdmitEDGE Free Resources Library!
Almost every GRE aspirant find the verbal section daunting because of its long & boring RC passages & sophisticated words. Are you wondering if there is an easier way to solve this?
While there may not be a simple shortcut, this eBook can be the ideal kick starter you will need. In this eBook, you will get:
1) Fun tips to learn GRE Verbal
2) Techniques to master GRE vocabulary
3) Quick preparation strategies for Text Completion and Sentence Equivalence exercises
Get your verbal preparation started - Download your Verbal Guide now!
P.S: Your eBook will be sent to your inbox, so make sure you give us a valid email ID.