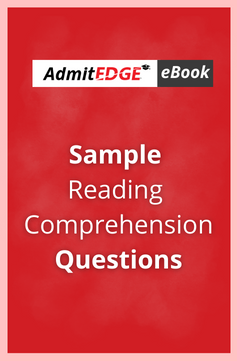 GRE Reading Comprehension Practice Questions
If you've finished reading "How to Crack Tough RC Passages", then here's your second edition! How can you make your GRE RC practice effective? By looking at these examples and then solving your own!
Download our free eBook today
Welcome to the AdmitEDGE Free Resources Library!
Ever wondered what the perfect answer is to a confusing RC question? How can you arrive at a correct answer faster and easier?
To give you a taste of how our experts solve RC passages, here's an exclusive advanced eBook with solved examples and expert tips. In this free eBook, you will learn:
1) How to practice Analytical Reading
2) Solved examples with expert answers
3) Sample questions and clues for your practice
Up your RC game in no time! Read between the lines - Download your advanced RC guide now!
P.S: Your eBook will be sent to your inbox, so make sure you give us a valid email ID.