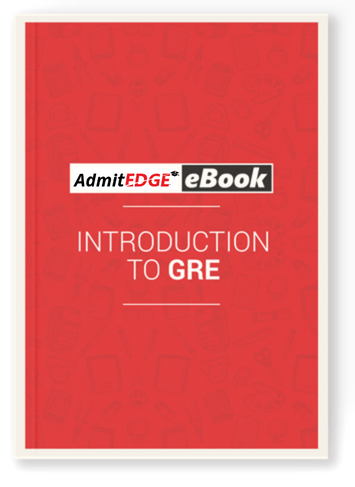 Introduction to GRE - Download Now!
Looking at pursuing Master's as a future career option? Here's your quick starter guide with A to Z about GRE. Starting with the syllabus, section wise distribution of topics, different types of questions and even some sample questions to help you get a feel of the GRE.
Download our free eBook today
Welcome to the AdmitEDGE Free Resources Library!
If you are looking to pursue MS in the near future and want to simply get your feet wet, then here's a comprehensive guide to help you get started! 
Answering some of the most important questions you may have before you start your preparation in full swing, this free eBook will explain
1) The GRE syllabus
2) Section wise distribution of topics in Quant, verbal and AWA
3) Types of questions you can expect
What's more, you ask? It even comes with some sample questions so that you know what to expect!
Learn A to Z about GRE - Download your quick starter guide now!
P.S: Your eBook will be sent to your inbox, so make sure you give us a valid email ID.